March 23, 2022
BIDEN WARNS RUSSIAN CYBERATTACKS ARE 'COMING'
Author: Sam Munakl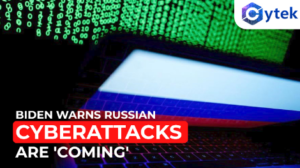 On Monday President Joe Biden warned of Russian cyberattacks against the U.S. — making this his most prominent alert yet about what he called new intelligence concerning the Putin regime's plans.
"The more Putin's back is against the wall, the greater the severity of the tactics he may employ … one of the tools he's most likely to use in my view, in our view, is Cyberattacks", Biden said on Monday.
The president said the federal government is "doing its part" to prepare for an attack and warned the private-sector CEO's that it is also in the nation's best interest that they do the same.
"I would respectfully suggest it's a patriotic obligation for you to invest as much as you can", in technology to counter cyberattacks, Biden told members of the Business Roundtable. "We're prepared to help you, as I said, with any tools and expertise we possess, if you're ready to do that. But it's your decision as to the steps you'll take and your responsibility to take them, not ours".
In 2021 Cytek has stopped over 10,609,200 email threats and resolved over 3600 incidents. We take the proactive approach and monitor 24/7 for threats to stop anything before even it become a problem.
During this challenging time, Cytek will be offering a free evaluation to your infrastructure and security measures, we urge and encourage you to take up on this offer to double-check your security.
Cytek is a leading healthcare Cybersecurity provider, and we tailor all our solutions to protect you, your practice, and your patients.
To schedule your evaluation, or learn more about what Cytek has to offer, you can reach us