August 2, 2021
Benefits of Implementing Cyber Security in Your Dental Office
Author: Sam Munakl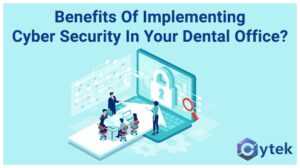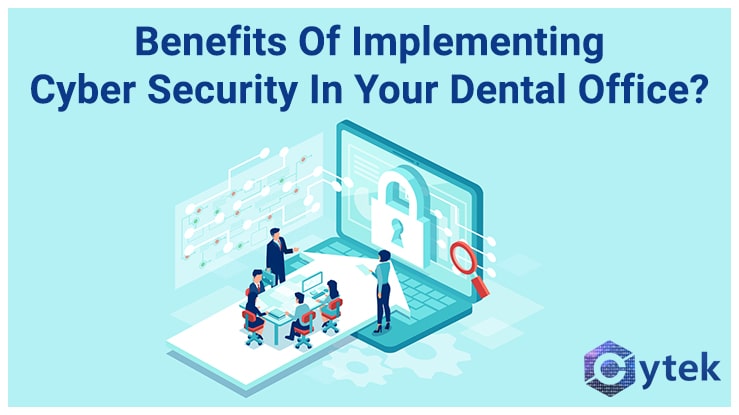 Digital technology has become a part of our daily life. We cannot imagine a world without technology now. Technology plays a vital role in our day-to to day operations. They help to simplify the routine task and make communication easier. With a lot of positive impacts, it can also create new problems. And one then is cyber-attacks.
Nowadays dental practices are facing cybersecurity threats. As per the HIPAA rule, it is vital for health care sectors to protect sensitive data. As the technology increases security risk also increases. To eliminate the threat it is better to partner with a cybersecurity consultant.
Cytek dental cybersecurity experts understand the specific needs of your dental practice. This helps us formulate solutions and implement effective cybersecurity solutions for your dental practice. We help you to protect confidentiality, integrity, and availability of information in your practice. We help your practice to safeguard your files from unauthorized access, cloud threats employee error, ransomware attack, and phishing attacks. Dental Cybersecurity for your dental practice improves your patient's privacy and reduces the risk of medical errors.
Benefits of implementing dental cybersecurity for your dental practice:
Cybersecurity services help to avoid data breaches. Data breaches are increasing day by day. As per the HIPAA rule, it is mandatory to protect the patient's information. The violence of HIPAA Compliance can put you in greater difficulty. Our cybersecurity experts can help you to maintain your dental practice with compliance and ease. Our cybersecurity will help you to comply with HIPAA regulations.
Electronic patient's information records play a vital role in the health care industry. It contains all information on patient healthcare and history. This helps to improve patient care by reducing errors.
Safer use of medical equipment
In modern dental practice, every piece of equipment is connected to technology for efficient and faster operations. It increases the risk of security as well. Poor security can help the hackers in a cyber-attack. A managed dental cybersecurity can help to overcome this challenge.
Partnering with a managed cybersecurity consultant not only ensures the security of the practice but also the efficiency of the practice. We provide the right security tools to avoid cybersecurity attacks and improve patient care.
HIPAA compliant dental practice
To avoid huge penalty every dental practice must strictly adhere to HIPAA rules. Cytek experts help your dental practice to maintain Dental HIPAA Compliant with ease and confidence.
CYTEK – The right tools for security solutions
We help your dental practice to defend against cyber-attack and reduce the risk. Our cybersecurity experts help you to comply with regulations and transform your dental practice operations. We provide your practice the ability to prevent threats and attacks. Cytek redefines what is meant to be secure. Connect with us now!