July 13, 2020
HIPAA Rules for Your Dental Practice.
Author: Sam Munakl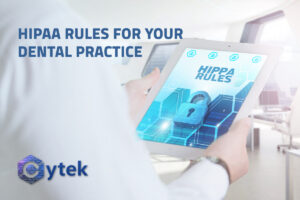 For the smooth functioning of a dental office, it is necessary to be compliant with HIPAA compliance. It is important to understand the rule and standards of the system. It is also required to ensure training and documentation protocols are error-free. The HIPAA rules are divided into five. Every employee should be aware of these rules and standards.
There are 5 main HIPAA Rules.
1. Privacy Rule.
The privacy rule protects the PHI and medical records of the individual. And also to make sure that the patient information will not be disclosed without patient authorization. This rule gives access for the patient to keep a copy of their medical records and can request a correction to their files. There are specific forms for this purpose. They are: Request for Access to Protected
Health Information (PHI), Notice of Privacy Practices form (NPP), Request for Accounting Disclosure form, Request for the restriction of Patient Health Care Information, Authorization for use or disclosure Form, and the Privacy Complaint Form.
2. Security Rule.
The standards, protection, and procedures related to electronic PHI on storage security are defined by rules. You can see three safeguard levels of security. The Administrative safeguard level, this deals with the alignment of a HIPAA compliance security team. The technical safeguard, this deals with the encryption and authentication methods to protect data. Physical safeguards, this deals with the protection of any electronic device related to your office. The risk analysis of hardware and software falls under this rule.
3. Transaction Rule.
The transaction rule deals with the transaction and code used in the HIPAA transactions. These codes are used to ensure the safety, accuracy, and security of medical records.
4. Identifiers Rule.
HIPAA uses three unique identifiers. They are the National Provider Identifier (NPI), National Health Plan Identifier (NHI), and standard unique employee identifier.
5. Enforcement Rule.
As per this rule, HIPAA private security to be strictly followed and any failure will cause penalties. Cytek provides you a complete dental compliance solution for your practice and you can do your best-taking care of the patients. Dental Compliance provides supports your practice. For more information and assistance call us!