December 6, 2022
Is Antivirus Software Enough to Protect Your Office from Phishing Attacks?
Author: Sam Munakl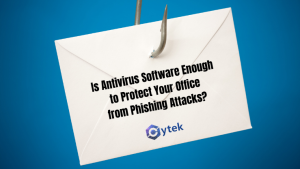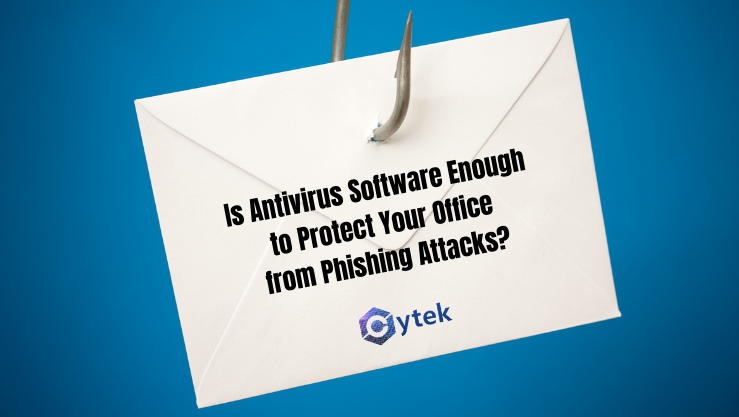 Data breaches reached an all-time high in 2021. In total, hackers compromised the data of approximately 1,862 major businesses, thereby exposing the records of 298 million people.
Clearly, cybercrime poses a serious threat to the continuity of your business. This is particularly true if you operate in a high-risk industry, such as the healthcare sector. These sectors are ripe targets for cybercriminals for several reasons, but especially because they store an abundance of valuable client data.
While hackers use several tactics to get their hands on this data, phishing attacks are one of the most frequently used strategies for compromising a company's data. If your organization has invested in antivirus software, you might think that you're protected from phishing attacks. Unfortunately, many businesses think the same and leave themselves exposed to phishing attacks.
The truth is that antivirus software is not enough to protect your office from phishing attacks. Join us as we explore why and what you can do to improve your approach to cybersecurity.
What Exactly Is a Phishing Attack?
Phishing attacks are so heinous because they prey on your business in a way that cannot typically be prevented through antivirus software. Instead, they prey upon your employees and rely on human error.
These attacks take advantage of social engineering, where hackers will attempt to trick your staff into letting them into your network. Hackers accomplish this by sending a text, instant message, or email that appears legitimate but actually contains malicious software.
By clicking on the malicious link or interacting with the software within the email, your employee has inadvertently given hackers access to your intranet, bypassing your antivirus software entirely. And once hackers get their foot in the door, they can wreak havoc on your network, steal critical data, or even hold your system hostage in a ransomware attack.
Why Antivirus Software Alone Cannot Stop Phishing
It is true that antivirus software is designed to stop external threats. But while phishing attacks do originate from external sources, your employees are the ones that actually initiate the attack, albeit accidentally. The action that grants hackers access to your network comes from within your organization. So when it comes to phishing attacks, your best line of defense is not software, but people.
It's worth noting that some antivirus software solutions can scan emails to guard against cyberattacks. However, they usually cannot detect malicious software that is embedded in a message.
How You Can Stop Phishing Attacks in Their Tracks
Antivirus software is undoubtedly a valuable tool that you should use to protect your office from cybercrime. However, it is most effective when paired with several other strategies and technologies.
Some of the other tactics that you should use to stop phishing attacks in their tracks include:
Implementing Strict Password Policies
There are many different types of phishing attacks. One of the most well-known involves coaxing the victim into downloading malicious software by clicking on a malevolent link. However, hackers may also use phishing emails to obtain a victim's login credentials. They can then use this information to surreptitiously access your system and obtain important data.
Fortunately, you can strengthen your resilience against both types of attacks by creating and enforcing strict password policies. For example, you should require your employees to update their passwords at regular intervals, such as every 60 or 90 days.
You should also prohibit password sharing and implement two-factor authentication, which requires employees to verify their identity using two methods, such as by providing a password and scanning an ID badge.
Installing Firewalls
Firewalls monitor both outgoing and incoming network traffic. As such, they can help make your business less susceptible to phishing attacks and other types of cybercrime by creating a barrier between your network and untrusted ones.
Like other cybersecurity resources, not all firewalls are created equal. Make sure to invest in firewall software that is robust, sophisticated, and compliant with the regulatory standards governing your industry.
Investing in Employee Training
Employees are often the weakest point of your cybersecurity strategy. But with the right training, they can be transformed into one of your greatest strengths.
To do so, you must provide employees with regular cybersecurity training. Teach them how to identify suspicious emails, and educate them on what steps to take if they have cybersecurity concerns. Also, bring them up to speed on your password policies and emphasize the importance of practicing good password stewardship.
Protect Your Investments
By implementing the above tips, you can significantly improve your cybersecurity standing and reduce your vulnerability to cyberattacks. If you would like to learn more about pressing cybersecurity concerns and how to address them, check out additional content from the Cytek team.