October 6, 2021
PROTECTING YOUR DENTAL PRACTICES WITH DENTAL CYBERSECURITY
Author: Sam Munakl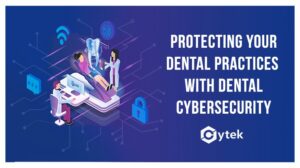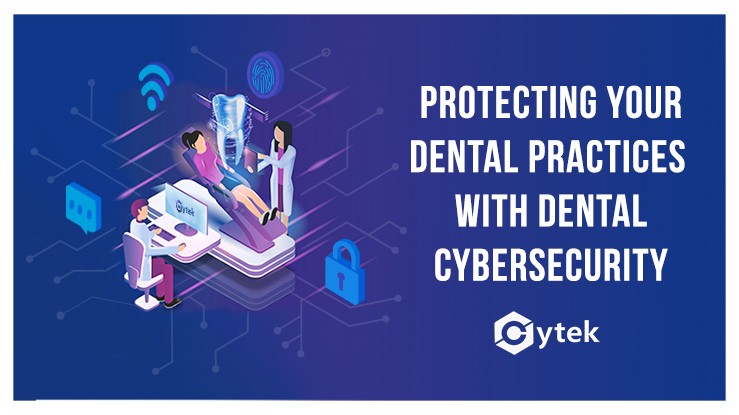 Sometimes cyber-security can be overwhelming. Implementing Dental Cybersecurity does not require to be complex. At Cytek, we provide simple and affordable cybersecurity solutions for better outcomes.Cybersecurity solutions also depend on best practices.
Protecting dental practice against cyberattacks
To ensure the protection of your dental it is mandatory to follow the best cybersecurity practices. This includes business tools such as electronic medical records, dental software, dental equipment, etc. For the day-to-day functioning of your practice, the availability of these tools is critical. It is your responsibility to ensure your data are protected and the access should be given only to the right people. Proper security measures should be taken to ensure your systems and services are secure.
Fortifying your cybersecurity
You need to ensure cybersecurity is in place in your dental practice. It is also required to periodically maintain and patch all system hardware and software. Dental HIPAA compliance helps to analyze risks, evaluate security controls and develop solutions. And it is needed to regularly monitor the IT network. Monitoring and reviewing IT networks can help you spot cybersecurity risks. Every employee must follow a security protocol to maintain security.
Developing a culture of cybersecurity
Cybersecurity is a never-ending process. You need to work on the security of your practice and maintain it every time. You must also work towards the improvement of your cybersecurity practices. There is no easy solution for this. Your practice must develop a culture of security practices. The cybersecurity awareness can help your employee to prevent clicking on a phishing email and prevent downloading attachment that contains virus. This protects your dental practice from ransomware attacks.
For the effective functioning of your dental practice, you need to promote cyber awareness by encouraging continuous learning and providing training. You must also need to provide awareness of the importance of protected health information by taking the utmost care. Prioritizing HIPAA compliance rules ensures the safety of your dental practice. Eliminate security threats with proper system configurations.
Get the cybersecurity support that you need
Cybersecurity experts help your practice to be safe and secure. We prevent cyberattacks.
We Offers Best Practices For:
Prevention
Network Architecture
Vulnerability
Patch Management
Security and HIPAA compliance
Assessment and Audit of Both Internal Hosts and External Services
Email and Chat Encryption
The right dental cybersecurity for your dental practice
We help your dental practice to defend against cyberattacks, comply with regulations, reduces risk, and transform your dental practice. We provide the best cybersecurity solutions at an affordable price. We help you to maintain cybersecurity without breaking your budget. We give your dental practice the right tools and protect your practice from advanced threats and malware from causing harm. Cytek – redefining what it means to be secure!